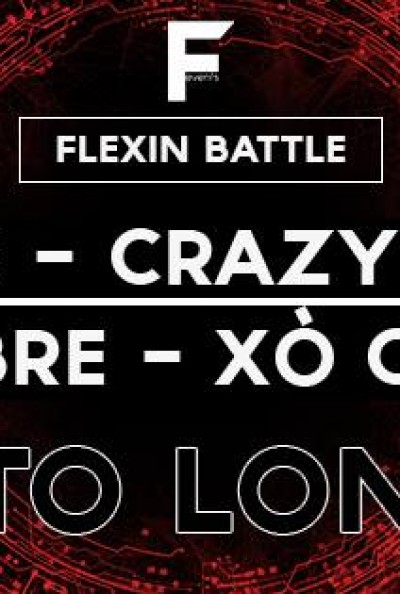 sabato 07 ottobre 2017
ORARIO: 16:00
COSTO INGRESSO: non disponibile
È ufficialmente partito il Flexin Battle Fly to London a Genova!
Scrivi il nome del tuo artista preferito e condividi il video per validare il voto: in palio l'accesso alla fase finale per volare a Londra!
Giuria tecnica: Playsounditalia.it e Hiphoptender.com
#7Ottobre #CrazyBull
https://www.facebook.com/flexinevents/?hc_ref=ARQi50lRFoHoauu-qwqtYP7eZ_mdwToCvCqRIRfX9yrPcvvHUzruBQ7TQROqNu5SHAo&pnref=story
ADRA e BLADE
EQUIPE 149 e ROJITO
EGO VS LEO ADONIS
PRIVO VS WESHLUCA
ÉTIENNE VS DBMC
NICENAME VS GABBO
BLUE EYE VS MILL
JAMBO e KK MACHINE
YOUNG SAIC VS MATSBY
Sam vs VMC
COCODRILL VS RAZOR MC
AMSI VS LOGOS
BLOCCO PEOPLE VS NOIL AMSER
YTEMA VS PN
CHEETRAP Familia VS Fato MC
ESTREMO VS LETIK
SGUARDO VS VIGLIE
J-FISH VS LORD THE LIGHT
Denny Loe VS Noah El Nino
Con questa sfida terminano gli artisti che il #7ottobre si sfideranno al #crazybull di #genova per volare a Londra: da domani inizierà lo stesso progetto nella città di Torino! ✈️
Flexin Battle fly to London è nella città: TORINO
Il rappresentante di quest'edizione è Bassi Maestro
Le iscrizioni al progetto sono ufficialmente aperte!
- Registrazione di un singolo a Londra
- Live con special guest a Londra
https://www.facebook.com/flexinevents/videos/1682542841765606/
Nader Shah supporta Flexin Battle Fly To London
- Live a Londra (Open Act Special Guest)
- Registrazione di un singolo completo a Londra
- Biglietto a/r per Londra
Grazie a: Hip Hop Italia , Playsounditalia.it, Hiphoptender.com, Mala Tempora!
Prossimi eventi
12 ottobre
sabato 22:00